[ad_1]

BENGALURU: Major urban centres around the world are embracing
renewable energy
sources to power homes and businesses, but Bengaluru is unlikely to feature in that hallowed list anytime soon. Since 2014, only 1,750
solar
panels have been installed atop complexes in the city, with the least number of units coming up at government buildings.
The dismal record is reflected in the data compiled by Bangalore Electricity Supply Company (Bescom), and it has complicated the utility's target of generating 1,200 MW of electricity through solar panels till 2020. To date, it has achieved only 106 MW.
TimesView
Seattle, the home of Amazon Inc, has quadrupled its solar power capacity in the past six years. India's tech capital, in comparison, added only 1,750 solar panels during the period. Woefully inadequate. A variety of factors — price, permissions, proper placement — might be dissuading businesses and residential complexes from quickly embracing this clean source of energy. But government buildings shouldn't have any excuses — they should be leading the way in installing solar panels, reducing reliance on Bengaluru's electricity grid. Nearly 400 government buildings have now been identified for this change, and the plan should be implemented at the earliest.
Now, Bescom is looking to install rooftop solar units at nearly 400 government buildings in the city, including Vidhan Soudha; MS Building, which houses the state secretariat; Raj Bhavan, police stations and public hospitals. Currently, there are only 57 units at government-owned properties.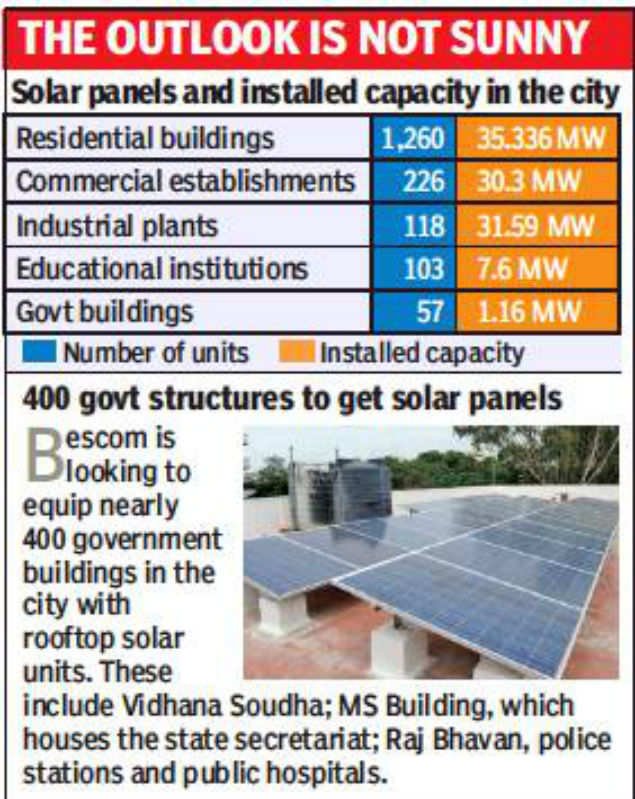 Residential buildings top the list with 1,260 solar-panel units, followed by commercial establishments (226), industrial plants (118), and educational institutions (103).
The tender for installation of more solar panels at government buildings was issued earlier this year and the contract will be awarded within six months. "The tender has been delayed by more than a year. It was issued twice before, but a poor response forced us to cancel it," a Bescom official said.
In September 2018, Bescom started accepting online applications for rooftop solar panels. So far, it has over 550 applications, which, if executed, would add 30 MW to Bescom's total installed capacity, another official said.
[ad_2]

Source link